Affordable self storage solutions for everyone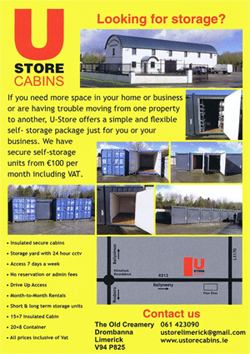 Whether it's extra space for a few boxes or a new portable cabin for your business, U-store can help. U-store storage in Limerick, in Ireland's Midwest, can provide you with the practical storage units you require and can give you the peace of mind you need starting from €100 per month including VAT.
You're moving house or moving to a new office and you need somewhere to put all your gear and equipment. Or you need some temporary rooms in the workplace. Make sure you get the best value and most secure units.
With 24 hour CCTV security and clean, dry and weather-proof units, you'll be safe with us. And as you're also covered insurance-wise, self storage is made easy with us as we take away any risks and you still retain access 24 hours a day, 7 days a week using specialist security technology – and we can even take deliveries for you. Or we can deliver the container to a site that suits you if you require.
As a genuine public storage provider, we also provide portable cabins for sale and hire and no doubt have the storage unit that suits your needs.
For secure affordable self-storage solutions, talk to us today.